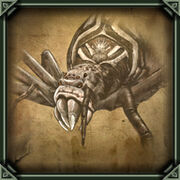 Spiderlings are a horde of large spiders that were tamed by the Goblin faction. 
The're of the same descent as Shelob, the giant spider who lived in Mordor.
Requirements (BFME2)
Edit
Built From: Spider Pit
Cost: 
Command Points Taken: 
Lair Spiderlings
Edit
Seven individual spiderlings lurk near a Spiderling Lair, which can be captured through the Forces of Evil power Untamed Allegiance.
Items in italics are exclusive to expansion