Angmar is a fourth evil faction, available only in The Rise of the Witch-king. Their units consist of lesser trolls, evil Men, Orcs from Gundabad, and Wolves.
This faction is of the diverse armies of the Witch-king of Angmar, and of his conquests as laid out in the Angmar Campaign. In Middle-earth lore, this faction is therefore older than Isengard and Mordor. The many upgrades of this faction are almost all oriented around magic and ice, since the Witch-king, its lord, dealt in sorcery, and his domain of Angmar has always been a land of snow.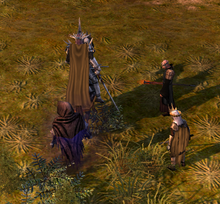 Structures
Edit
Items in italics are exclusive to expansion
Community content is available under
CC-BY-SA
unless otherwise noted.